Woo Hoo! Just when I was wondering what to do with no concerts on the horizon, U2 announce their new tour (or the companion tour of 2015's Innocence and Experience Tour, depending on your perspective)! And with it comes a whole lot of game changers for buying concert tickets.
In fact, things have changed enough since I posted my original 10 Commandments for Surviving Ticketmaster, that I thought it wise to update that article into this new one.  I've also added a handy little Checklist of tips and  strategies for you to print out and keep handy (available below).
Most of the changes are due to a new Ticketmaster process called 'Verified Fan.' According to Ticketmaster's website, Verified Fan is "a really big robot" that they built "to protect fans from the thousands of little scalper bots trying to scoop up tickets."  Basically, fans have to register under the Verified Fan system for each concert/event they want to buy tickets for. Ticketmaster's technology then analyses the data to "separate actual, human fans from bots and scalpers" and the humans are given unique codes with which they can go forth and buy their tickets. (Though registering does not guarantee a code and receiving a code does not guarantee a ticket…)
In my experience, the Verified Fan process is fairly simple – just provide the information required on the registry page for your artist and the date(s) you want tickets for and then wait for the verified sale code (some artists may provide additional, and controversial, ways for fans to increase their chances at getting an earlier pre-sale date). If you get a code, carry on to the ticket-buying process!
Verified Fan process or not, these are giddy times, waiting (impatiently) for those tickets to drop! Yet there is a strong element of stress that comes with that excitement when it is a show where the demand far outnumbers the supply!  Two days after U2's tour announcement, I had a stress dream related to buying tickets and being in a General Admission madhouse (there may have been thousands of people dressed up as Disney characters in this dream… I am not responsible for my sub-conscious).
Over the years of concert ticket buying, I have learned a number of tips that help me reduce that stress and get the tickets of my dreams (not the scary Disney character invasion type of dream, either, the good dreams!).
So, without further adieu, here are my 10 Tips (Commandments) for Buying Tickets on Ticketmaster (followed by a printable checklist):
1) Worship Thy Rock God at Thy Rock God's House 
No, not their actual house… Please do not stalk Rock Gods or other celebrities at their homes… Join the official fan club.  Many, maybe even most, official fan clubs offer their members pre-sale codes for tours.  Some memberships are free, others you have to buy.
Join the clubs in advance – sometimes the longer you are a member of the club, the better the pre-sale date you get.  Plus, you will usually get notification of upcoming shows.
Just remember that this is separate and different from Verified Fan registration. It may feel like you are registering with the artist twice because Verified Fan is specific to the artist's tour. And if you are a crazy fan like me, you may even have to register multiple times with Verified Fan if you want to see a number of different shows on the tour… These are all separate from the fan club registration.
You can also look for other ticket pre-sales: American Express has their Front of the Line pre-sales for card-holders; so might other credit cards.  Sometimes Live Nation offers pre-sales.
I used to sometimes luck upon generic fan club pre-sale codes online – just google the band and/or name of the tour and pre-sale codes.  This, however, will not (should not) work with Verified Fan.  Each human gets their own unique code, which apparently only works with that person's Ticketmaster account. (So I understand anyways, I've never tried to use someone else's code on my account –if you have, let us know what happened in the comments below!)
2) Thou Shalt Be Prepared 1: Know Thy Venue! 
If you care where you sit or stand, familiarize yourself with the venue seating map prior to the ticket drops.  Ticketmaster and the venues' websites will usually offer a specialized seating map with that band's particular stage in the particular venue, or they will have a generic concert seating map.
I print one out days in advance to have near me on the sale day.  I also google 'best seats' for that venue so I know if there are any blockages, sound issues etc. in any of the areas.
3) Thou Shalt Be Prepared 2: Create A Ticketmaster Account in Advance 
If you are participating in a Verified Fan Ticket Sale, you may have already had to create an account with Ticketmaster.  If you haven't done so, one of the best tips I can share is to sign up with Ticketmaster in advance of the sale date.   Enter all your credit card and mailing information, etc.  While it looks like this is the wave of the future of ticket buying anyways, having an account with all your information with Ticketmaster saves so much time when you are actually in the process of buying tickets.
And those seconds can count!  Even though Ticketmaster gives you some time to complete each screen, things can go wrong – you hit the wrong number for your credit card, your address doesn't match, etc. – and you can lose the tickets and have to start all over again, meanwhile someone else has scooped up the tickets!  Having all of this information already entered saves precious time and reduces that stress.
If you already have an account, make sure your information is up-to-date – did you change your name, address, cell number, email, get a different credit card, etc?
Sub-Tip 1: Add your favourite artists to your Favourites list and sign up for notifications for when tickets for your favourites are released.
Sub-Tip 2: Download or update the Ticketmaster App if you will use a mobile device.
Sub-Tip 3: Even if you sign up/update and enter your info in advance, make sure you still have everything available at your table when you are buying the tickets – your credit card, passport, ID, address, etc. just in case.  Make sure you have your pre-sale or sale codes near by as well!
Also, if you are buying tickets for shows in other countries through that country's Ticketmaster (or affiliate site), be aware that they may ask for information your country doesn't – I had to run and dig out my passport when I bought tickets for a show in Belgium.  That was nerve-wracking as I only had seconds!  I also lost General Admission floor tickets to the U2 I&E Belfast show because something went wrong with my Canadian information on the UK system – though I managed to pull up seats immediately after, it was extremely heart-breaking!
4) Thou Shalt Be Prepared 3: Know Thy Ticketmaster Screen
Now that you have a Ticketmaster account and have an idea of where you want to sit/stand, another useful tip for buying concert or event tickets is to become familiar with what the Ticketmaster screen looks like on your browser and where all the buttons are that you might need to help you find your tickets.
If you aren't already familiar with your Ticketmaster ticket selection screen, I recommend going to the website and finding an event similar to what you are planning to buy for, at least the same venue. Go through the motions as if you were going to buy a ticket to this 'practice' event (just up to selecting a ticket – don't press "get tickets," unless you want them! lol!)  This will let you look around the page to see where the filters are for price points, where to select type of tickets (or to deselect verified resale tickets, which are usually priced above face value), where to click for best tickets, where to reset the screen/filters and how to maneuver the interactive seating map.
These days, most Ticketmaster sales seem to have interactive seating maps that show all available seats when you are in the ticket buying screen – it lets you select the ones you want rather than pulling up one set of tickets it deems best for you (which I suspect is really best for Ticketmaster, ;)). (If you don't get this screen, check here for trouble-shooting.)
When the map first opens, it shows the whole venue with colour coding on which sections have availability (on mine, the lighter the blue, the fewer seats available). You then click on the section you want and it opens into a close up of all the seats in that area.  You can drag the screen around to see the close up of the other sections, or reset to the whole map and select a new section.  You can select the seats you want by either clicking on the seat or on the side menu list.
It's super awesome! However, be aware that seeing all the seats available could be overwhelming when you are racing the clock and resetting or moving around the screen can take valuable time, so it is useful to know in advance an idea of where in the venue you want to sit – just ignore the other areas – and where the filters are to narrow your choices.
5) Thou Shalt Be Prepared 4: Use Multiple Devices
I have my computer, iPad and phone at hand on Ticket Day.  If it is possible, I log into my Ticketmaster account on each device and am constantly refreshing each of them.  As one screen is loading, I refresh the others.  If I am happy with the first set of tickets that come available on one device, I stop using the other devices.  If I am not happy with the first tickets, I use the time at each stage of the purchase process to keep refreshing my other devices in case better tickets show up.  However, the trick is to not push the time allotments to far or you could lose the tickets you have on hold!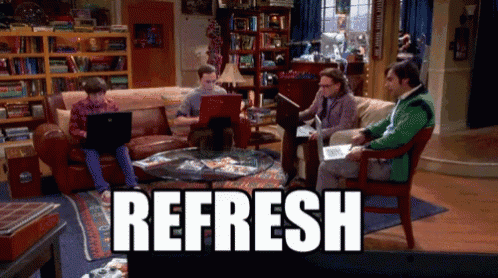 I am not sure how this will play with the Verified Fan unique access codes – will we be able to log in those unique codes in more than one device?  Not sure… I'll update this once I've found the answer.
If you have friends going with you, you can also ask them to try getting tickets at the same time, this can increase your chances (though it also of course increases traffic to Ticketmaster) and if more than one of you make it through, it gives you options on seating if you don't like the first ones that come up.  Just have some way of communicating with those friends (be in the same room a la the Big Bang episode above, or put each other on speaker-phone (you need your hands free!)) so you don't all buy tickets for each other!
6) Thou Shall Not Covet Your Neighbour's Tickets
If you are buying tickets for a hot show that is likely to sell out, consider buying whatever tickets first show up for you, even if they are not the perfect seats, especially if you aren't using the interactive seating map or multiple devices to check for other tickets while the timer is running on the ones you are holding.  If you release the tickets you don't like, you may not get a second chance, or may get worse seats.  Of course, this depends on your preference – is it better to have 'bad' tickets, or no tickets?
7) Know Thy Neighbour
If you are unable to get tickets from Ticketmaster, look for unofficial fan groups on Social Media and post what tickets you are looking for – fans' plans change, life happens and sometimes fans end up needing to sell their tickets.  These groups also tend to post when more tickets drop or if they know anyone selling. If you find the right groups, these communities of fans are usually against scalping tickets to their band's shows and offer tickets they can't use at face value prices.
In some cases, there are groups, such as the U2 Fans Tour Help Real Fans Get Tickets Facebook group, who are dedicated specifically to helping fans sell or buy tickets to other fans.  The moderators of this particular group facilitate the exchanges made through the group to ensure the deal is legit for all parties and tickets are sold at face value.
You can also search Online Classifieds such as Kijiji – sometimes people post tickets for face value on these sites as well.
Just be aware that a lot of tickets these days require the credit card the tickets were purchased with.  Others have the name of the buyer on the ticket.  So just be sure that if you buy someone's ticket that you are not going to the show with, you will be able to use it.  E.g. see if you can have the ticket transferred from the buyer to your name and Ticketmaster account.
8) Beware False Idols
I cannot support ticket scalping… I've done it once when a Madonna concert sold out in seconds and though the show was amazing, and though the prices weren't too too high, a part of me regrets it, especially as she announced a second concert the next day due to overwhelming demand… And because I stressed for months about the possibility that the tickets were fake (they were a print out of e-tickets, the person could have sold 20 copies of the same ticket…) And especially because I know these tips above on how to get tickets.
However, it is always a risk to play the waiting game and sometimes you just want to be sure you get those tickets – so here is some food for thought if you are thinking about using secondary sales sources:
Consider buying from Ticketmaster's Fan to Fan Resale site. While I personally question the ethics of Ticketmaster being able to engage in and profit off of scalping (why can't they have a rule that tickets sold on their resale site can only be priced at the original price (including all fees) plus the resell fee so as to take a true stand on scalping…), buying from their site does guarantee the tickets are legit.
Try not to buy from secondary sources immediately after a show sells out (or before they go on sale – some scalpers do this thing called 'speculative ticket selling' where they post tickets for sale on their sites BEFORE tickets have even gone on pre-sale or general public sale – they are speculating the tickets they will get from their bots and selling them in advance! Crazy!).  This is when tickets are the highest in price.  As you get closer to the show date they will often drop in price and in some cases, i.e. days or hours before the show starts, they can come down to below face value as scalpers become desperate to get rid of the tickets.  Of course, this is another risk as there is no guarantee that there will be tickets left or that they go down in price, so, you must do what you must do.
9) Spread the Good Word
If all else fails, talk to people.  Go to the venue on the day and walk around.  You can either ask people – even just shout out at the lines – for extra tickets at face value, or listen and look for people with extra tickets.
My first trip to Dublin ever was purposefully taken around the date of a massive U2 concert.  I did not have a ticket to the show, but I always wanted to go to Ireland anyways and figured maybe I would luck out.  This was back before Facebook; there were a couple of online fan groups I belonged to but nothing like today.  I asked once or twice in those groups for tickets, found a hostel where some fans were staying, but no tickets.  So I went, had a blast, fell in love with Ireland the second I stepped on the ground, but never found a ticket.  The day after the concert, people in the hostel were talking about the show, I commented on how I wished I could have found a ticket and a lady says to me "oh no, I wish we would have known yesterday, we had an extra ticket that ended up being unused and there were tons of people offering tickets at the event! You should have just come to the venue!" Sigh…
10) Thou must persevere
My guiding principle, best tip, for ticket buying is never give up. Never. Give. Up! EVER! I prep as much as possible in advance (as laid out in the other Commandments above), and on the day, I sign in to the Ticketmaster page at least ten minutes before the tickets go on sale to make sure my internet is working, battery charged, etc.  As soon as the clock strikes the magic hour, I keep refreshing and searching my browsers until that happy screen offering a set of tickets appears.  I keep trying for probably close to an hour.  Even if the site says sold out.  Never give up! Other people buying may release tickets they have on hold as they decide not to buy, or their session times out, etc. and the tickets are released back into the queue.  If you stop trying, you won't be there to get them.
If I still haven't gotten tickets within that original timeframe, I keep trying throughout the day, you never know what may happen.  I also check in every so often from that day onwards.  And a couple of weeks or so before the concert, I will step up the search again and check frequently throughout the days.  This is because Ticketmaster usually releases more tickets to a show days before the event – maybe the promoters or whoever didn't need as much as they took, maybe the presales don't sell out. Also, whoever is responsible for such things purposefully under-estimate the number of tickets to release in the original sale based on how the stage will fit in the venue.  Once the stage is actually assembled, they can see where the views are blocked, how many seats fit around the stage or how many people can fit in general admission, etc. and they open up more tickets.
This was my plan of attack for tickets to see U2 in Dublin (the mecca for serious U2 fans – for a post on how seriously wonderful this experience is, go here) in 2015.  I luckily managed to get tickets to their Belfast show in the general sale, but wanted to go to Dublin as well, especially as one of the four dates was on my birthday.  I put in hours searching Ticketmaster, fan groups and so on.  I bought my plane tickets to encompass those Dublin dates just in case, booked hotels, and carried on.  Mere days before the first Dublin show I finally managed to get a ticket when they opened up more seats. And then again, the day before my birthday show, I managed to get one for that show as well (OMG! it was amazing!)!  That was serious perseverance!
Above all, Thou Shalt Have Fun! 
I love all the crazy emotions and adrenaline that comes from the second my Rock Gods announce a tour through the anticipation and stress of waiting for the sale, through the happy stress of those seconds or days on Ticketmaster, to the final euphoria once I press that last button and the tickets are mine!  Then I am nothing but smiles and giddiness for days and months (or until the credit card bill arrives) in new anticipation of seeing my Rock Gods live!
How about you – do you have any tips for buying concert tickets?  Any Golden Rules?  I'd love to hear your stories.  And let me know if you use these 10 Commandments and if they worked for you or not.
Happy ticket hunting!  And here is the promised checklist of these tips and strategies:
Categories: Concert Tickets